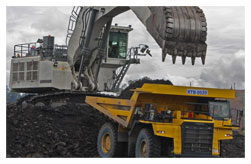 Welcome to Borneo
We are an integrated hard coking coal mining company, well positioned to benefit from the favorable long term industry outlook, with sizeable reserves that are increasing, as we execute our drill program and which will support our planned growth in production of high quality coking coal.
We have a well-diversified customer base and a geographic location near major customers throughout Asia. We have excellent potential for significant additions to our reserves and resources, and the support of a strong and experienced management team.
Share Price
IDR
Updated every 10 minutes. Last Updated: 30/11/2015 18:35:09.